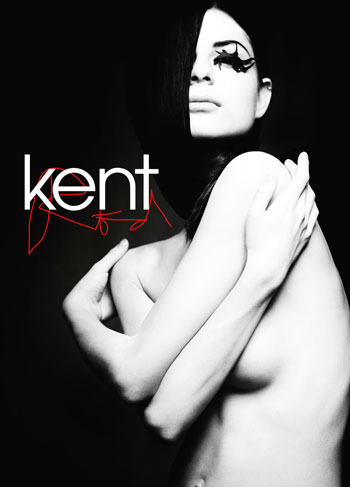 This is "Röd". It is one of the greatest albums of all time.
The first track is called "18.29-4". There's some footsteps, a church organ and then there's singing. A Swedish small town choir provides an unsettling, earnestly unproffessional two minute intro to an album-full of holy shit, blistering disco beat, Jerry Bruckheimer explosions.
The following one-two of "Taxmannen" and "Krossa Allt" (swedish for "Destroy Everything") flashes by with such ferocious decisivness, it's literally impossible to understand what's happening. Still now, after three days and repeat listenings, all I can make out is some mean shit propulsive beats and electronic screeches buzzing by. Atop there's a man somehow managing to sound both paranoid and extremely glamorous at the same time.
That same man then produces the kind of intolerably glossy high register vocals that sound like the most sympathetic sapient being in the world feeling really quite down. On track #4, Hjärta" ("The Heart"). It is important to understand the sheer audacity of the title. Imagine a Spanish band calling their greatest moment super-anthem "El Coraszon". 6 seconds in, acoustic strumming is joined by a rhythmic strings section, the kind that evokes this scene from Magnolia: quiz-show wunderkind sitting on his bed, shadows of raining frogs on the walls behind him, the kid utters: "It's happening, it's really happening." And then comes a chorus the size of planet Jupiter.
On an album as much a masterpiece of emotional manipulation as it is in geeky sequencing miracles, the three-piece of "Hjärta", "Sjukhus" and "Waltz for Satan" (yes: "The Heart", "The Hospital" and "Waltz With Satan") manages to top Muse's "Exogenesis: Symphony" in ear-blasting grandeur. While somehow never veering into it's "slightly shit" territory. This is serious stuff and you should take it seriously.
After 16 years of hard, hard work (this group actually records and releases new material, a habit more and more uncommon in the west) it is impossible here to escape the feeling that "Röd" is the apex of that development. Nurtured by Sweden's potent internal market, kent have secretly become the greatest pop act on the planet.
Production-wise they are light-years ahead of the competition. Every sound is ear-shatteringly crisp, engineered by the guys at Saab who test supersonic fighters. As far as brick-mastering goes, it's possible to crank this shit up so high it literally becomes the last thing you hear.
And then, as "Waltz With Satan" pulls out it's last trick, it just might. Saab's technological savvy joins chief songwriter Joachim Herbert Berg's supernatural ability to anticipate what one wants next from a melody. What one wants after the pulsating intro, the effortless verse. As "Röd's" backbone three-piece demonstrates Kent's talent for that crowning achievement of
technological progress, the mid-tempo pop-song, "Waltz With Satan's" super-mega end chorus touches on it's limits. For the first time in their career this band of control freaks lets a melody really really fuck a song up. An anarchic, hysterical mess of drum breaks and chrystal feedback – I have no idea what he's saying but will translate it as such: "What you've just heard is the ionosphere of the mid-tempo pop-song. This is where planet pop-song ends. There is no going further."
And they do this by absolutely not wallowing in any musical nostalgia. As the world's first and second largest music industries – the US and the UK – have wasted a decade mistaking retro for progressive, it's third largest music industry – the Swedish music industry – shows no sign of such remorse. I am reminded of an Ikea commercial, where a man throws his dusty old lamp out on the sidewalk. Sad music plays as it begins to rain. On the background we see the lamp's former owner's window illuminated by his shiny new Ikea lamp. A man appears, laying it out in a thick scandinavian accent: "You feel sorry for this lamp, yes? That is stupid. It has no feelings. The new lamp is much better."
After abandoning their indie-rock roots for glamorous and decidedly now! electronica on 2007's "Tillbaka Till Samtiden" ("Return to the Contemporary") it appears Kent will never do the "return to roots" kind of mushy sentiment most bands fall prey to. Matter of fact, they may never do much of anything anymore. Those few and cultish fans abroad, who have followed Kent on a roll – an absolutely stellar line of 6 almost and sometimes completely perfect albums released after the band abandoned their short-lived attempt at international stardom in the late 90s and withdrew to being the highest-selling band in Sweden – have long since asked the question: "how long can you guys keep this up?"
As "Idioter" ("The Idiots") appears out of the fallout left behind by "Waltz", sparkling with wacky beats and irresistable melodies, the stress begins to set in. Again? Another loud pop gem? "Röd", as it's name "Red" suggests, displays a kind of violent behavior: on one hand it wants to please you, (and knows how to) on the other it wants to tire you with it's ability to do so. This, another potential hit in a back catalogue where half the songs are hits, is followed by yet another one, and another one... Matter of fact, the album's lead single "Töntarna" ("The Geeks") – a sinister revenge disco adorning the lines: "from all those parties / I wasn't invited to / I brought you home / on the back of my bycicle" (putting the Herbert in Joachim Herbert Berg) – hasn't even come up yet. And when it does, after it's long fade out is finished, we arrive at the album's last and possibly best track.
The title reads "Det finns inga ord" ("There Are No Words") and what we get might just be the best closer of kent's career. And that's saying something to anyone who knows "747". A pitch-shifted bird-like piano sound sets in, a mercifully relaxed verse and then the delivery of the vocal interval in the chorus is simply sublime. It's quite enough. Thank you, you can stop now. You don't have to do this anymore.
10 / 10
Glamorous, foreboding and violent, "Röd" is that most utterly fantastic of consumer commodities – the perfect pop record. It is good enought to redeem our entire way of life. And it's entirely in swedish so you can imagine the songs are about the coolest shit ever.